GA Glitz Pageants
Mission
The GA Glitz Pageant provides personal development opportunities for young women through production of high quality competitions, holds to the highest standards of integrity and conducts all competitions in a fair and unbiased manner.
Vision
The GA Glitz Pageant is a vehicle for personal development and cultural appreciation. The program provides viable to the young women through service and volunteerism. It strives to recognize the intelligence, talent, moral character and personal commitment of its exceptional participants as they pursue excellence resulting in positive life experience, spirit and good will.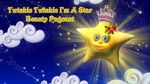 GET INVOLVED
Our pageants depend upon volunteers, financial contributors, and donations of in-kind services. Their support is what enables us to continue to educate and motivate young girls. Please help us in our efforts of shaping Poised, Elegant, And Responsible Leaders by getting involved today!
Values
Emphasizing inner beauty, style, and cultural appreciation, The GA Glitz Pageant is a personal development opportunity for young women to begin in life adventures. The contestants who become part of The GA Glitz Pageant series, gain confidence and poise in an increasingly competitive world. The pageant affords each delegate the opportunity to grow and advance her personal and career goals while acting as a role model in her community..